Hier werde ich nach und nach ein paar aktuelle Informationen zu dem Projekt aus dem Englischen Orginal Thread *hier* posten, für alle von euch die mit der Englischen Sprache ein paar Probleme haben


Also unser Network Artist Dean Fenech hatte, nachdem es schon in anderen Threads angeschnitten wurde nun die Idee einen animiertes Zeichentrick Filmchen zu machen. Basierend auf den Dark Angel Charakteren.
Das ganze soll etwas weniger als 5 Minuten lang sein und das Network und den Barcodeday promoten und etwas dabei helfen DA bei den Fans am Leben zu halten.

Den fertigen Cartoon wird es in mehreren Versionen geben. Immer mit Englischer Sprache aber mit diversen Untertiteln.
Das Ende des Cartoons soll ein Eyes Only Broadcast enthalten welches eine Art Manifest des DAN sein soll.

Ein paar erste Skizzen könnt ihr hier sehen: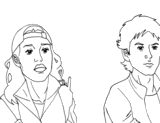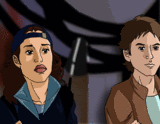 Die Stimmen der Charaktere werden ein paar Leute hier aus dem Forum sprechen. Aber die Rollen von Max und Sketchy werden von Geneva Locke und Richard Gunn höchst persönlich gesprochen


Hier ein Auszug aus der EMail die Dean bekam:
"I'd be happy to participate in the cartoon doing the voice for Sketchy. Also, I can talk to JC MacKenzie (Normal) and see if he'd be willing to participate if you like"