Je vais au fur et à mesures actualiser quelques informations sur le projet d'après la section anglaise*ici* Écrire en anglais peut nous poser quelques problèmes


Donc, notre Artist Network Dean Fenech, après avoir abordé l'idée dans d'autres section, a décidé de faire un dessin animé basé sur les personnages de Dark Angel.
Le tout durera un peu moins de 5 minutes et cela pourra aider le réseau et le Barcodeday afin de venir en aide aux quelques fans de DA qui sont toujours en vie.

Le dessin animé est terminé en plusieurs versions. Toujours en anglais, mais avec différents sous-titres.
La fin du Cartoons Eyes Only vise une diffusion qui est censée contenire une sorte de révolte de la part du DAN.

Vous pouvez voir quelques esquisses ici: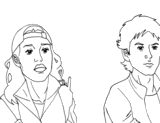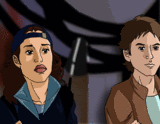 Les voix des personnages sont faites par des gens de ce forum. Mais les rôles de Max, Sketchy, Geneva Locke et Richard Gunn sont nombreux


Voici un extrait du courrier électronique qu'a reçu Dean:
"I'd be happy to participate in the cartoon doing the voice for Sketchy. Also, I can talk to JC MacKenzie (Normal) and see if he'd be willing to participate if you like"