Jessica's erste Familien Reise: The Democratic Convention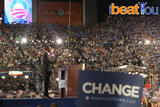 My first IBY blog…but believe it or not this is my fourth attempt. The previous three all included ImHungry and a video camera and understandably we both felt we had done enough embarrassing vids that we shouldn't have to subject ourselves to poor vlogging. Leave the vlogging up to those that do it really well. Who knows though we may give it another go in the near future.

So this past week I attended the Democratic National Convention in Denver with my wife and daughter and feel compelled to write about it. This was our first trip as a family. As always, we arrived at the airport way to close to our departure time so it was hectic. After cussing out the two lame photogs that were waiting at the airport for Jay_eh we made our way through security and boarded our flight. It's always nerve-racking for new parents to fly with their child because you never know if you're going to ruin everyone else's flight with a screaming baby. (To date, Honor has been a great baby. Rarely crying. Opting to express herself through simple Haiku's or interpretive dance instead…yeah right. My girl's got opinions. lol). We sit down and cross our fingers that she will sleep. She does J. Nothing really exciting happened on the flight except the energy of what was to come was already palpable. We landed in Denver and headed to the hotel to change so we could go watch Bill Clinton speak.

Seeing Clinton speak in person was like seeing a HOF athlete return to their sport. The room was electric. He received a 10min standing ovation and then calmly delivered an endorsement for Obama as only Clinton could do. I think the most effective part of his speech was when he compared BO to himself as youngster from Arkansas who everyone thought was too young and inexperienced to run the country. It seems like we are always getting distracted in politics from the real issues. Experience doesn't mean anything if it's not the right experience and no experience is paralleled to running the country. I think the best leaders are those that surround themselves with smarter people than themselves and understand how to properly delegate. My top 5 issues this election are about: the US economy, US educational system, US global relevance, Iraq War, and the environment.

After Clinton's speech we went to a Voto Latino event to help raise awareness about the importance of voter registration. Registering to vote takes five minutes out of your day and is the first step to being active. So many people like to complain about what's broken but don't like to take the necessary steps to help fix it. If you haven't registered and need a place to do so check out these links:

www.declareyourself.orgwww.votolatino.orgwww.rockthevote.org

The next day Barack Obama made me remember why I love being part of the world in this day and age. I'm sure some candidates of the past have been amazing to watch, but Barack held a crowd of 80,000 captive and evoked emotions ranging from crying to laughing in 30 minutes. I have pictures to prove it. Barack has this uncanny ability to speak to a room of 80,000 but yet you feel he is speaking directly to you. I have been to Superbowls, NBA Championships, Academy Awards, etc but none of them compare to what it was like sitting inside of Invesco Field that day. I will remember this day for the rest of my life.

No matter who you vote for, the important thing is to do your research and go out and vote. This is one of our precious rights and we should all take advantage of this and voice our opinions. So please do check out the links and get out and vote. Like I mentioned earlier, it only takes a few minutes!
Quelle: ibeatyou.com